Playsons New Slot Mechanics

Playson has launched their latest slot game called Stars n Fruits Double Hit, and it's the first in their games to feature the company's innovative new mechanic, "Double Hit". The "Double Hit" allows players to spin across two games fields at once, especially in Germany, where slots are subject to a minimum spin duration of five seconds, which means double time!
It is available at most online casinos for real money.
Their first version of this exciting slot was called Stars n Fruits. It was initially launched in April 2014 and was a classic three-reel, five payline fruit machine.
Stars and Fruits: Double Hit is Playsons latest slot addition to their Timeless Fruit slots portfolio. It signals their strong ambition to deliver a new and exciting spinner to the German market whilst retaining gameplay in compliance with the legal minimum spin duration.
How Does Stars and Fruits Double Hit work?
The new version also has the classic fruit machine symbols and icons but has two reels next to each other in a 5x3 grid.
The "Double Hit" refers to the two grids, which also doubles your chances of winning. This feature is brand new as it did not appear in the first edition of Stars and Fruits Slot.
Star Scatter Feature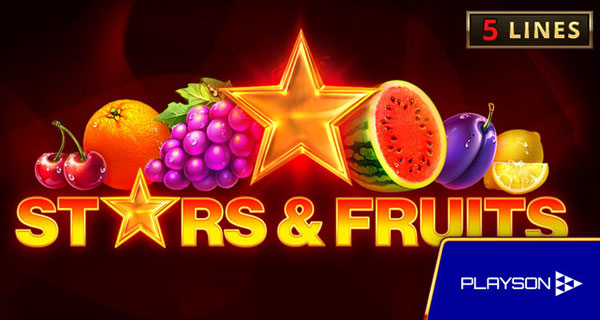 The other feature is the Star Scatter which can deliver a win, regardless of its position on the reels, as long as you get three or more landing. The Star scatter feature can be very lucrative as it can deliver up to 5,000x the stake.
The RTP ( Return to Player ) of Stars and Fruits Double Hit Slot is 95.46, a decent RTP for a classic slot machine. If you are looking for other slot machines with an even higher RTP, we would suggest https://www.jackpotjill.com/en, which has a good selection.
The best part of this online slot is that a player can still play a favourite classic slot game, but with the added twist of bonus features to make it more exciting. It is also a straightforward slot to play, so it is ideal for beginners.