The Ivey League is Born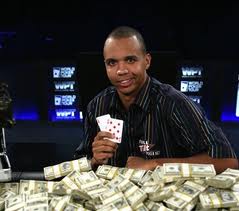 Phil Ivey is one of the most successful live poker players the world has ever seen. With over $17.5 million in cashes, dating back to 1998, Ivey had seemingly taken over the world of live poker.
So, if Ivey is the main shark circling the live tournament waters, then who has that spot in the online realm? At $19 million, nobody has won more money playing online cash games than Phil Ivey.
Just in case Phil Ivey was ever in doubt about his grip on the world of poker, he has decided to dominate it. His new venture, IveyPoker, promises to offer a suite of innovative poker products and services, designed to entertain and educate poker players of all levels worldwide.
The announcement of the new site in the poker news was followed with a small band of merry men and one woman in the shape of Jennifer Harman, but that flock has since grown exponentially.
Three recent signings include the current GPI ranked world number one, Dan Smith, the number sixth ranked player, Andrew Lichtenberger, and the talented cash game player, Aaron Jones.
All three are the formidable team at LeggoPoker, a poker-training site now owned by – yes, you've guessed it again – IveyPoker.
The next stage in development is to use the foundation of LeggoPoker to act as a springboard for the delivery of the Ivey League, a new training site that will provide information on poker strategy from Ivey's team of elite poker professionals. A launch date is yet to be announced.